Immersive imaging
for Accor hotels
Versatile 3D and 360 imaging solutions
In times of change when external touch-points are acutely in focus, hotels seek to improve, streamline and refine marketing processes. Facilitated with a powerful, easily managed virtual tour platform it is possible for hotels to help market themselves with versatile immersive imagery.
With Theatro360's flexible options, hotels can advance their marketing with ease using simple, powerful tools anyone can use – with no expertise. We can provide a fully Serviced imaging process with our professional photographers who will plan and shoot your hotel with seamless ease. For those who wish to take closer control of their marketing Theatro360 offers Shoot & Go (where the hotel can organise the shoot and we build the resulting content) or even full DIY self-shoots. These options are ideal if a hotel wishes to record decor changes or to conduct hotel inspections.
Benefits for Accor Hotels
Imaging experts offering bespoke VR imaging & team management
Easy-to-manage 2D & 3D content, photography, video & virtual tours which can be viewed on all devices both online & offline including VR headsets and app
Enable hotel M&E teams to showcase their hotel to event organisers using a clear, easily managed platform with possibilities to customise
Multi-choice offering from Theatro 360 – from full serviced shoot & editing, through to hotel-managed and DIY control of content
Enhanced subscription offering allows hotels to access additional services such as Staging design/Render import & TourGuideVR as well as purchase own camera for time lapse  facilities & individual tours
Cost effective solutions offering discounts and savings to the Accor portfolio of hotels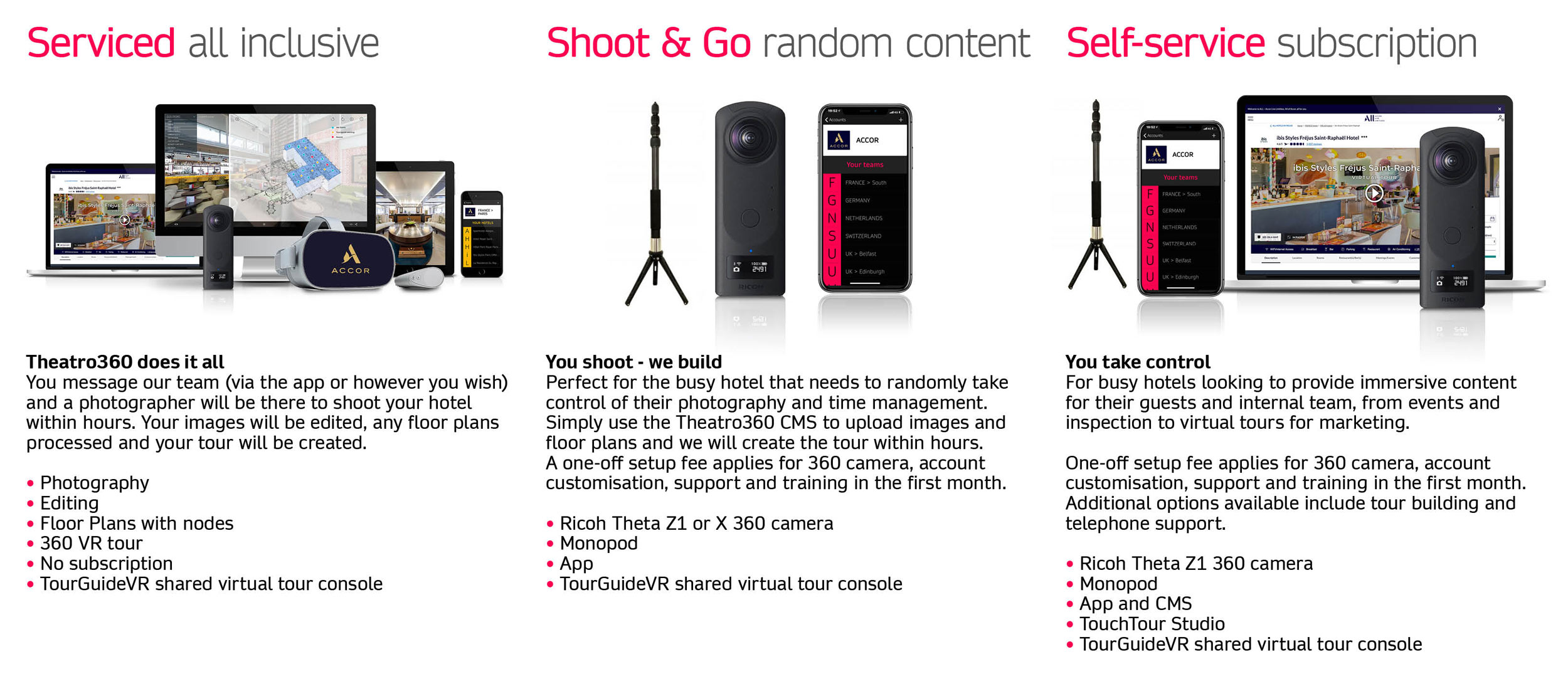 Novotel // Tower Bridge
Virtual tour of main areas and rooms with split-screen comparisons for suite setups
Imaging for a changing world
We know how it is – your entire hotel is seldom available for a full, time-consuming 3D tour – and neither do your potential guests necessarily need to see every part of it. With Theatro360 you can shoot as little or as much as you see fit. Showcase your meeting spaces, restaurants, cafes, gardens and nearby attractions through complete or partial virtual tours, or even just a selection of immersive images for adding to your website, promotions and email footers.
Theatro360 can offer 2D or 3D touring with rich navigation experiences.
Features include:
Annotations
Audio notes
Look-at point of interest
Video embeds
Image galleries
3D floor plans
Split-screen slider
Still-frame export
Live 360 TourGuideVR video calling
Join the revolutions™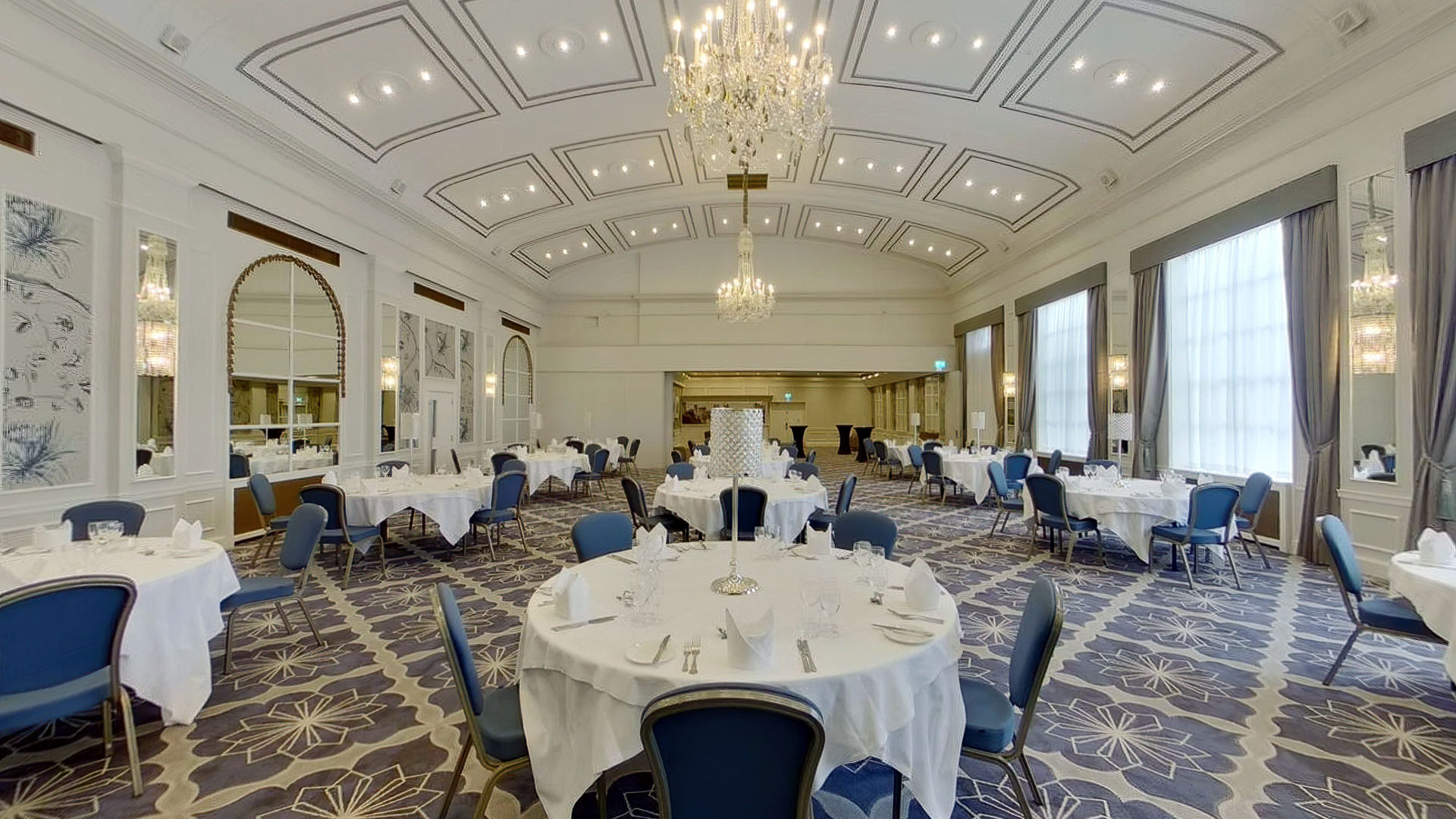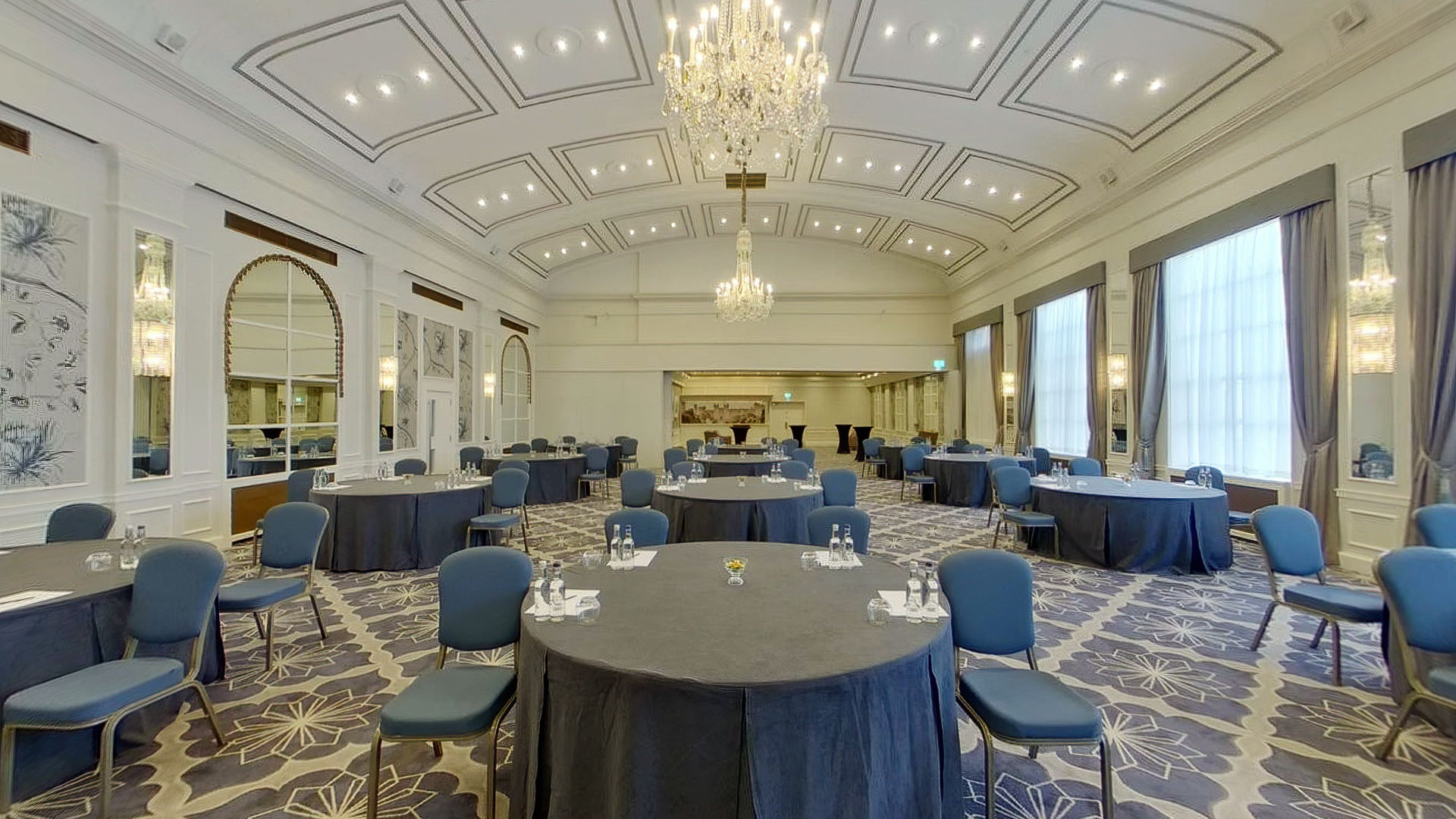 Still image exports from a 360 scene used as comparisons
Compare content over time using split-screen image viewing to present variable states, snags, finishes or job completion for marketing purposes.
Split-screen Banqueting Suite comparisons
Show variable staging states of a space. Tap the clock icon top left to compare images from the menu.
Split-screen Lighting comparisons
Show variable lighting. Tap the clock icon top left to compare images from the menu.
Direct scene share
Guide users to an individual scene within a virtual tour - eg. a Room.
Solo image embedding
Show an individual scene detached from a virtual tour as a feature on a web page. Hover over the image to activate.
Theatro360 // Overview
An overview of the Theatro360 platform